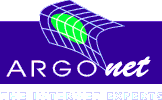 ---
Navigation menu
---


Products & Services


Help and advice


How to get in touch with us


Our subscribers' Web sites


Interesting links elsewhere
---
Page best viewed in
800x600 with lots of colours



Please select a topic from the image above or use the buttons to the left
Welcome to ArgoNet!

Orpheus

Products

ArgoNet is owned by Orpheus Internet, who aim to be the leading supplier of internet services for beginners and experts alike. More information can be found on the Orpheus web site.
A list of products available to ArgoNet customers is now online at the Orpheus main website.

Current Service Status

Webmail

If you encounter technical problems, you can check the current service status page for details of current network problems or issues.
Don't forget that ArgoNet users can check and send your email from a web browser anywhere in the world using WebMail.

©2007. ArgoNet is a subsidiary of Orpheus Internet Services Limited